A Disproportion of Theory to Knowledge Means Speculation and Guessing
Thinking of the missing Malaysian Airlines flight MH370, it certainly is true. Much speculation but few facts.  I waited more than two weeks to make this post, first hoping that there would be a happy conclusion to the disappearance, and then hoping simply for some closure. It finally seems to have come to some resolution. Data analysis by Inmarsat shows that the flight "ended" in the Southern Indian ocean.
No, I don't know anyone on the flight. However, having traveled frequently for business during much of my career, I feel as one with the missing. It might have been me. It might have been you. Tomorrow, It might be any one of us.
As of Saturday, March 22, this quote from the New York Times seemed to capture the situation best. I added the bold emphasis.
More than two weeks after Flight 370 disappeared, unbridled speculation surrounds the unfolding global drama. So much is uncertain about what happened on the plane, and so much of what has been disclosed by Malaysian authorities has been contradicted, that hardly any theory of its fate can be easily dismissed. 
By PHILIP P. PAN and KIRK SEMPLE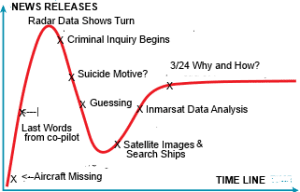 However, as of today, 3/24, data analysis finally tells us another story. Including the starting and ending dates, 17 days passed between the recognition of the aircraft's disappearance and the data analysis that seems to have ended the disproportion of theory to knowledge.
Many Theories but Few Facts
I adapted the famous Gartner Research Hype Cycle to this story, as it seems to fit.Between the few hard facts that this tragedy admitted, there was much theorizing and speculating about what happened, and where the airplane went. Can a huge aircraft really disappear?
As a young boy, I read about Amelia Earhart  and how she disappeared on her globe-circling 1937 flight. I asked my father about whether he remembered the incident. Of course he did, but he assured me that an airplane could never disappear with today's technology. That "today" was more than 50 years ago.
In the table following, I've entered one news story about MH370 per day, chosen from a leading news source. You can see where fact-based reasoning began, ended, and began again. What is the lesson here? Make your decisions based on facts, not guesses, hopes, or idle speculation.
News Posts About MH370 over 17 Days
| | | | |
| --- | --- | --- | --- |
| Date | Link to Article | Headline | Essential "Facts" |
| 3/8 | CNN | Search intensifies for Malaysian airliner and 239 people, rescue ships head to sea | It [Flight MH370] has disappeared from radar. We know the nationalities of the people on board. |
| 3/9 | The Guardian | Malaysia Airlines: object found by Vietnam navy thought to be part of missing plane | No wreckage has been found of the Malaysia Airlines flight MH370 which went missing early on Saturday morning.At a press conference on Sunday morning, Malaysia's transport minister, Hishamuddin Hussein, revealed that the identities of four passengers aboard the missing Malaysia Airlines flight are under investigation.He also said that radar showed the plane may have turned back in mid-air. |
| 3/10 | The Guardian | Malaysia Airlines flight MH370: officials widen search area | Search area widened Official says men on stolen passports looked like 'Balotelli' Hijacking not being ruled out. Oil slick and yellow object prove to be false alarms |
| 3/11 | Wired | How It's Possible to Lose an Airplane in 2014 | It is still possible–although rare–for an airliner to seemingly vanish. "The simple hard truth is it's very difficult to find things in the water," said retired Col. J. Joseph, a former Marine Corps pilot and aviation consultant. |
| 3/12 | AOL | Last words from missing plane were routine | The last message from the cockpit of the missing Malaysia Airlines flight was routine. "All right, good night," was the signoff transmitted to air traffic controllers five days ago. Then the Boeing 777 vanished as it cruised over the South China Sea toward Vietnam, and nothing has been seen or heard of the jetliner since. |
| 3/13 | CNN | Search for missing Malaysia Airlines plane expands to Indian Ocean | New information, U.S. officials told CNN, indicates the missing airplane could have flown for several hours beyond the last transponder reading. Malaysian authorities believe they have several "pings" from the airliner's service data system, known as ACARS, transmitted to satellites in the four to five hours after the last transponder signal, suggesting the plane flew to the Indian Ocean, a senior U.S. official told CNN. |
| 3/14 | Huffington Post | Malaysia Airlines Missing Plane: Radar Data Suggests Jet Flew Deliberately Toward Andaman Islands, Sources Say | An investigation into the disappearance of a Malaysia Airlines jetliner is focusing more on a suspicion of foul play, as evidence suggests it was diverted hundreds of miles off course, sources familiar with the Malaysian probe said. |
| 3/15 | New York Times | Malaysia Officials Open Criminal Inquiry Into Missing Jet | The search for Flight 370 turned into a criminal investigation on Saturday, after Malaysia declared that the plane had been deliberately diverted and then flown for as long as seven hours toward an unknown point far from its scheduled route of Kuala Lumpur to Beijing. |
| 3/16 | India Today | Final words from Malaysian jet came after systems shutdown | The final words from the missing Malaysian jetliner's cockpit gave no indication anything was wrong even though one of the plane's communications systems had already been disabled, officials said Sunday, adding to suspicions that one or both of the pilots were involved in the disappearance. |
| 3/17 | Reuters | Malaysian airplane investigators look at suicide as possible motive | The co-pilot of a missing Malaysian jetliner spoke the last words heard from the cockpit, the airline's chief executive said on Monday, as investigators consider suicide by the captain or first officer as one possible explanation for the disappearance. |
| 3/18 | CNN | New evidence in Flight 370 search explains plane's path | New information from the Thai government bolsters the belief that missing Malaysia Airlines Flight 370 took a sharp westward turn after communication was lost.And it looks like that turn was no accident.A law enforcement official told CNN Tuesday that the aircraft's first turn to the west was almost certainly programmed by somebody in the cockpit. |
| 3/19 | New York Times | Newly Detected Objects Draw Searchers for Malaysian Plane | The Australian prime minister, Tony Abbott, announced on Thursday that satellite imagery had detected objects that might be connected to the missing Malaysia Airlines jet that vanished on a flight from Kuala Lumpur to Beijing on March 8. |
| 3/20 | CBS News | Possible Debris Near Australia Is 'Best Lead' Yet In Search For Malaysia Airlines Flight 370 | A freighter used searchlights early Friday to scan rough seas in one of the remotest places on Earth after satellite images detected possible pieces from the missing Malaysia Airlines plane in the southern Indian Ocean. |
| 3/21 | New York Times | Nations Start to Collaborate in the Search | The expansion of the multinational operation in the remote stretch of deep ocean illustrated how the increasingly bleak search for the jet was prompting some Asian nations to set aside regional tensions. |
| 3/22 | CNN | China has new images showing object in southern Indian Ocean | China announced that it has satellite images of a large object floating in the search area for the missing Malaysia Airlines plane, but Australian-led search teams in the southern Indian Ocean found no sign of it Saturday. |
| 3/23 | New York Times | A Routine Flight, Till Both Routine and Flight Vanish | More than two weeks after Flight 370 disappeared, unbridled speculation surrounds the unfolding global drama. So much is uncertain about what happened on the plane, and so much of what has been disclosed by Malaysian authorities has been contradicted, that hardly any theory of its fate can be easily dismissed. |
| 3/24 | NPR | Analysis Shows Flight 370 'Ended' In Indian Ocean, Malaysia Says | Malaysia's Prime Minister Najib Razak said Monday that new analysis of the flight path of Malaysia Airlines Flight 370 showed that it "ended in the southern Indian Ocean."Speaking at a news conference in Kuala Lumpur, Razak said the U.K. Air Accidents Investigation Branch and the U.K.-based satellite company Inmarsat had used a first-of-its-kind analysis to determine the fate of the Boeing 777 and the 239 passengers and crew aboard."Based on their new analysis, Inmarsat and the AAIB have concluded that MH370 flew along the southern corridor and that its last position was in the middle of the Indian Ocean, west of Perth," the prime minister said."This is a remote location, far from any possible landing sites," Razak added. "It is therefore that with deep sadness and regret that I must inform you that with this new data, Flight MH370 ended in the southern Indian Ocean." |
What is next for MH370?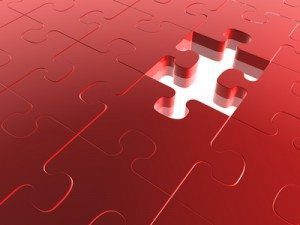 Now the search for wreckage and black boxes will ensue. These missing pieces of the puzzle must be found.The US Navy has already dispatched a "ping detector" to help locate the black boxes. Without those, and the cockpit voice recorder, we may never know what really happened. Without finding the wreckage, grieving relatives and friends of the crash victims will always hold onto some thread of hope, and their wounds will not heal. Let's hope that fact-based reasoning takes the lead, and we soon learn what happened, so it does not happen again.
What is next for you and your decision-making?
I have written frequently about the miserable data quality situation revealed by our Poor Data Quality – Negative Business Outcomes survey. Respondents have told us that, in a big way, they lose money and suffer business challenges due to poor data quality. Decision-making suffers, customers are unhappy, opportunities are lost, and managers and executives have no confidence in the information on which they depend.
Principal Consulting and The Robert Frances Group can help you move to a happier state of data quality affairs. It all begins with an understanding of where your organization is today, and goes forward to help you address and implement sustainable data quality improvements. Contact us today to find out how we can help. Until then, Happy Landings!