seo is search engine optimization.
seo is search engine optimization.
Search engine optimization (SEO) is all about getting your website to appear in one or more organic search engine results page (SERP) listings and features on page one of a SERP. SERP features, often referred to as "rich snippets" are informative elements including answer boxes, the knowledge panel, rating stars, maps, image carousel and others that make the SERP page of old look uninformative.
Landing high on page one of a SERP and dominating SERP features consistently is challenging. The fundamental principles of success are providing query-relevant high-quality content that is easy to find and consume. Let's look a bit deeper.
Google looks for Expertise, Authority, and Trustworthiness (E-A-T) in determining the quality of sites it deems to be Your Money or Your Life (YMYL) sites. In general, if a site contains information that might affect your health, safety, security, or future happiness, Google will probably see it as a YMYL site. Based on Google's General Guidelines for Search Quality Rating , here is what E-A-T means.
Expertise – The creator of the main content of a website page (MC) is a professional in a field relevant to the page's content or is an enthusiastic participant in the field. Provide background information (e.g. training, certifications, degrees, relevant experience) on the MC's creator to establish expertise.
Authority – The creator of the MC and the creator(s) of the website itself are recognized authorities in the relevant field, as demonstrated by online references and links in websites and directories already acknowledged as authoritative.
Trustworthiness – The creator of the MC and the creator(s) and manager(s) of the website itself receive positive online reviews with no mixed or negative reviews.
As search engine providers refine their criteria for measuring relevancy, content quality, and ease of access, the tactics for search engine response page (SERP) success must evolve. Therefore, optimizing and testing the website and content page variants (split testing) for SERP success is continual. A website is never "one and done."
this is how we can help you.
Our first step in any SEO engagement is auditing a client's website. An audit reviews the technical, information architectural, content, backlink, local search, and structured data on the site under review. Our guiding set of audit principles derives from Google's own General Guidelines for Search Quality Rating.
From the audit results, we create a prioritized improvement and measurement plan addressing issues uncovered in the audit. 
What is technical seo? Technical seo addresses the speed of website response as well as the site's rendering and ease of use. Following Google's lead, we address a site's mobile version first, followed by desktop, and tablet. Slow response, especially on mobile, will lead potential visitors to abandon their access attempt and try elsewhere. Rendering issues, which might include too-small buttons, menu items too close together to easily select, blurry images on retina devices and similar, challenge website users.
We evaluate technical seo results using powerful organic instruments (our eyes, ears, and hands) as well as a technology suite including Google Pagespeed, Google Search Console, GTMetrix, and SEMrush. Evaluations continue as your web team or ours applies site modifications. We make the most of what the site has, given the constraints of time and budget.
information architecture.
What is information architecture? Information architecture addresses the structure and organization of your website and the content it contains. Sound information architecture allows efficient search engine crawling and enhances search engine insights about the site. In addition, sound information architecture simplifies a visitor's tasks in finding the information they seek. By contrast, poor information architecture has negative impact on search engines crawls as well as how site visitors navigate the site to find what they need.
How do we evaluate information architecture? We review navigation menus, information silos, internal linking, URL structure, sitemap quality, and redirection. Each of these elements offers potential opportunities to improve search engine and visitor site experience. We work with your website team to develop an information architecture improvement plan, or if we manage your site, we will implement the plan. Naturally, we monitor site traffic, engagement, and other selected criteria to measure improvement.
In the digital marketplace, keywords establish what your organization does, identifies the products or services it offers, and highlights how your clients benefit from those products or services. The right keywords reflect the intent of online searchers for whom you wish your site to appear on page 1 of SERP.
How do we find the right keywords? It is keyword research that reveals the right keywords for your situation and provides direction for the content decisions we make to appeal to your target search market.
Is Keyword Research important to your SEO effort? YES… Keyword research is a critical factor in a successful SEO effort…
Greg Gifford of Wikimotive says
"Your entire SEO strategy grows from the foundation of solid keyword research. You can't write relevant content if you don't know the phrases that people will use to discover it – or the phrases that Google associates with worthy content. You can't optimize your pages without knowing which phrases you should optimize for.

In the early days of SEO, when Google's algorithm matched keywords entered in the search phrase to the same keywords on a web page, it was infinitely more important to create content that included exact match phrases.

Now that Google's algorithm has evolved to entity-based search, you don't have to worry about exactly matching search phrases – instead, you need to match the intent behind the search – the main concept of what the searcher is looking for.

Which means, of course, when you're doing your keyword research, it's not just about finding the words people use to find a business like yours – it's figuring out the intent that searchers have when looking for you.
Why did I quote Greg Gifford? Greg delivered the excellent SEMrush keyword research course, which I took and passed.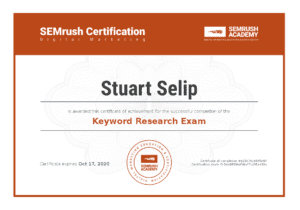 Why do you need On-Page Content Quality Optimization? Because a lightning-fast, well-organized website full of nonsense or unreadable prose is no use to anyone. "Content is King" is the oft-quoted pronouncement from Bill Gates back in January of 1996. He was right then and remains right today. However, only high-quality content wears the crown.
As with most other website quality criteria, content length, organization, and readability standards have evolved. Content that was considered high-quality five years ago may need significant enhancement. For example, content that receives little site traffic is a good candidate for updating, combining, or eliminating. Instances of similar content may compete for search engine attention, reducing the SERP position of all look-alikes on the site. This is known as keyword cannibalization. We use our experience, backed up by a suite of smart software to ensure your content is appealing to visitors and to search engines.
Content developed and published years ago would likely benefit from a refresh. Here are some of the things we review when SEO-optimizing your content.
Are your Keywords still relevant? For pages under review, we review your selected keywords and perform keyword research of relevant queries to see whether your keywords are still relevant.
Are your SEO Titles and Meta-Descriptions helping you? Titles are meta-descriptions are what searchers see about your website pages when they appear in a SERP. We ensure they represent your page content and are effective at expressing your page's value.
Is your site full of thin content, duplicate content, or both? Sites often have thin content, or content so brief that search engines interpret it as spam and will penalize you. The "right" length for cornerstone, evergreen content is now about 1,500 words. Several years ago, it was closer to 400 words. Your thin content needs greater length and depth.
Websites frequently have duplicated content. Either multiple copies of the same content reached by distinct URLs, or content sourced from other websites and left unchanged. Duplicate content is not toxic but does nothing to help your site rank. We find thin copy and work with you to beef it up and make it appealing to people and search engines. We find duplicate content and apply one or more corrections to make that content work for you.
Is your website's internal linking done correctly? Internal links are important. Why? Internal links with appropriate anchor texts help search engines "understand" your content and gauge its relevancy to queries. While internal link checking and targeting is properly a element of information architecture, ensuring anchor texts make sense to readers and search engines is an important part of optimizing content.
How does your website content compare to that of your strongest online competitors? We identify your keyword competitors, review their content, and supercharge yours.
Does your content express the intended sentiment? We use AI-based sentiment analysis to stack the sentiment deck in your favor… and yes, we have found sentiment mismatches on review.
Is your structured data properly configured and integrated?  We have a full service offering to enhance and improve your structured data content. During content quality improvement, we check to see how your markup looks, whether it contains errors, and whether it qualifies for rich snippet inclusion.
Whew… that was a lot of work, but high on-page quality is worth it.
What are back links? Back links are links from other websites to pages on your website.
Why are back links important for your website SERP ranking? Search engines use back links to evaluate the quality and authority of your website using "birds of a feather" reasoning. When high authority, high trust websites link to your website, some of their high influence accrues to you. For search engines, the right back links indicate Authority, as contemplated in Google's E-A-T.
However, when toxic websites containing illegitimate content (e.g. pornography, hate speech, etc.), link to your site, their bad mojo taints your site. One way or another, the link juice will flow.
We monitor the condition and toxicity of backlinks of your back links, disavowing those that, after inspection, appear toxic. We review the anchor text (the text a visitor would click on another site to traverse the back link to your site) to ensure it captures the meaning of its target page. If it is misleading or there is better content on your site to target, we advise the webmaster of the referring site. and identify websites that would be candidates for linking to Client's website pages and blog posts.
What is local search? Local search engages specific search engine technology to limit SERP results to those nearby the searcher's geographic location. Therefore, locale-specific businesses and service area businesses want to appear high in SERP for relevant searches in their geographic areas.
For locale-specific searches, you want your site to appear in the Google "local 3-pack" search results with map references showing on both mobile and desktop. Combining a "local 3-pack" showing with a rich snippet and high ranking in SERP listing dramatically increases your exposure and ups the chances of a searcher clicking through to your site, calling, or visiting in person.
Visiting a local business in person ups the ante for location data quality. Google and other search engines use the Name, Address, and Phone Number, known as NAP, on your website and in your citations in significant online directories (e.g. Google my Business, Yelp, YP – Yellow Pages).
Your website accrues Trustworthiness, a key part of E-A-T, when all instances of NAP are identical on your website, on significant online directories, and on directories of lesser magnitude.
How do we improve your local search ranking?
We analyze and rationalize your NAP across your website and citations in high-influence directories, making updates to directories, as needed. For businesses with multiple locations, we ensure directories contain the right NAPs for each individual location.
We advise and assist in content creation that emphasizes the local character of your business. City pages, local charitable work, special deals for students, seniors, and other worthy customer segments are all useful grist for local content creation.
We monitor and report on your SERP ranking vs. your local competitors for Google, Bing, and Yahoo local search results.