But who is writing about it? Poor data quality articles are not flooding your inbox.
Have you read the recent Harvard Business Review (HBR) article on the business impacts of poor data quality? No, because there's no such article.
Other than the regular blogging of Thomas C. Redman, who posted an HBR blog entry called "Making the case for better data quality"  back in 2012, the business impacts of poor data quality don't get loads of HBR journal space. By the way, Dr. Redman is the President of Navesink Consulting Group, and has consulted and written extensively on the importance of data quality.
Well, what has been published about poor data quality at the MIT Center for Information System Research (CISR) site? Hmm, it looks like there have been no publications on this topic!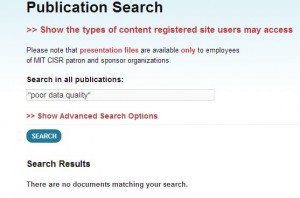 I'm a bit disappointed at that empty search result set. IT Governance is one of CISR's classic research areas, and data governance is certainly a part of IT Governance.
The CISR reports that organizations practicing effective IT governance have 20% higher profits than those with less effective governance.  OK, those effective organizations are probably practicing effective data governance and avoiding the business problems of poor data quality. What about the poor IT Governance performers? Where are the poor data quality cautionary tales backed up by survey and anecdotal research? It looks as though they are missing in action.
Well, we are going to survey and interview the business community about problems they experienced due to poor data quality, looking at the following areas.
Customer – How well could you know and retain your customers?
Marketing – Are you able to up-sell and cross-sell effectively?
Business Operations – Are your Accounts Receivable and Payable correct?
Compliance – Have you had to pay fines, fees, or even go to jail?
Financial – Do you manually reconcile before giving customers or the SEC reports?
Human resources – Are your internal and/or outsourced HR records correct?
Supply Chain – Do you suffer supplier quality or timeliness problems
Intellectual Property (IP) – Is your IP out of control?
Procurement, Logistics and Just In Time (JIT) – What about late/wrong inventory, stopped production lines, and similar problems?
Plant and Equipment – Do you have missing spares, delayed maintenance, and repeated safety issues?
Strategic planning – Is there confusion over investment priorities, reorganization, M&A, divestitures, and similar issues?
Yes, poor data quality negatively impacts all of those areas!
The Bottom Line
It takes hard work, sponsorship, and collegial cooperation to make a business-focused data quality survey and interview process produce good results. That's why the Robert Frances Group and Principal Consulting, LLC. are busy ensuring that we have right questions, the right sponsors, and the right interview subjects who are ready, willing, and able to share their negative business impact experiences due to poor data quality. As I write this blog post, we are in the process of developing and refining our survey, subjecting our work to peer review. As our survey and interview process evolves, I'll be posting a series of progress blogs, so stay tuned!
[ssba]