Zigbee Alliance
now browsing by category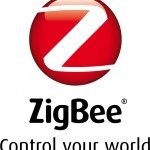 Rethinking retail with ZigBee is a win-win for shopper and retailer
When I spoke with John Osborne II, Chairman of the Board of Zigbee Alliance and Ryan Maley, ZigBee Alliance's Director of Strategic Marketing, about rethinking retail with ZigBee, here is what I learned.
Digital Reality
Between marketing automation platforms, Google Analytics, email click-through tracking, and social media monitoring, there is a lot of data about the behavior and interests of shoppers.  Whether understanding how prospects grow into buyers, or learning which content is compelling and which is not, measuring visitor behavior opens the door to managing digital resources more effectively. Remember that old truism that managing depends on measuring? That is shopping in the digital world. Now, think about shopping in the physical world.
Rethinking retail with ZigBee in Brick-and-Mortar
Brick-and-mortar retailers and other store owners would love to visualize the paths shoppers take through their stores just as they can see which website pages a browsing consumer visits. They would want to know how in-store advertising and display placement influences where shoppers pause, how long they pause, and what they buy, just as they can analyze which digital ads get hovers and clicks. The good news is that today, retailers can apply the same analytic insights to the in-store shopping experience as they do in the digital world. That is what a ZigBee-enabled retail experience can deliver. Let's see how that happens.
ZigBee helps retailers perfect the shopper's experience
In the recently released 2014 Internet Trends report, "re-imagining grocery shopping," means in part, having someone else walking the aisles with the end consumer. The key phrase here is "walking the aisles." Retailers want to know which aisles, how long, which stops, and so on. It doesn't matter whether it's a new online service like Instacart that dispatches a personal shopper to the store, or a spousal call to action on a mobile device.
To compete effectively with purely online shopping solutions, brick-and-mortar retailers must offer a superior shopping experience, operate more efficiently themselves, and be open to interacting with the host of mobile devices that are now an everyday part of our lives. ZigBee makes all this possible.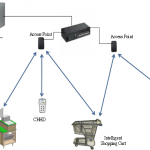 A ZigBee network is a self-organizing, self-healing mesh, expandable to 64,000 nodes. Low energy sensors run for years on AA batteries and the multi-channel mesh offers great reliability. Based on open standards, and with many suppliers in the mix, retail adopters benefit from reduced costs to implement and support. So, ZigBee is a great low-cost open infrastructure for retail solutions. Let's see why.
The Intelligent Retail Environment
The ZigBee intelligent retail environment addresses three big concerns of the retailer…
Offer a superior shopping experience
Operate more efficiently
Interact with a host of mobile devices to accomplish goals 1 and 2
Superior Shopping Experience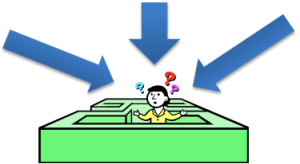 Some shoppers want to navigate the retail maze to find the items and sales they seek in a minimum amount of time. Retailers want to know where the shopper is spending time, and which route(s) they have taken to find what they need. Everyone wants the shopping and checkout experience to be fast, smooth, and secure.
ZigBee provides these answers using the "Nearest Gateway" approach, as shown in the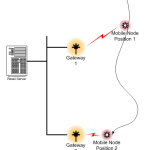 accompanying graphic. The nearest gateway logs the identity of the mobile device, enabling shopper tracking throughout the store. The shopper can inquire about sale items and receive a steer to them, or find the best route to satisfy their cloud-based shopping list items. The retailer can point out where to find the day's best deals, help shoppers take advantage of coupons, and ensure the checkout process slow-downs receive attention.
Operate More Efficiently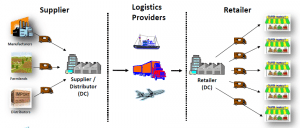 Having the ability to direct shoppers to sale items, sending associates to the right store locations to offer assistance or eliminate bottlenecks, and ensuring the temperature of cold and frozen food cases stays correct, are all examples of efficient and effective operation that a ZigBee-enabled intelligent retail environment brings to the table today. Further, ZigBee monitoring helps ensure the quality and safety of food on the shelves, protecting customers and reducing liability.
ZigBee offers a broader vision for the future. Just in time (JIT) has been the watchword of manufacturing since Japanese automakers woke up their US counterparts in the 1980s. ZigBee technology will enable retailers to enjoy the same benefits of efficiency, while delivering fresher products to the shopper.
Variety of Devices

Today, a ZigBee network can handle the variety of devices needed to deliver a superior retail experience for shopper and an insightful data flow for the retailer. The integration of hand-held Android and IOS devices is not far off. Remember that ZigBee is a set of open standards, so adopters avoid the vendor lock-in that technologists suffer with proprietary architectures. Beating vendor lock-in is a subtle advantage at the outset, but pays large dividends as the corporate retail network evolves and expands.
The Bottom Line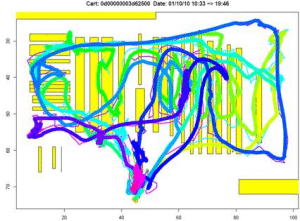 In case you were thinking that tracking shopper's paths through the maze of aisles was a pipe dream, this graphic at your left should clear things up. The behavior of several different carts shows which areas of the store attract attention, and which receive a pass.
The graphic on your right is a "heat map" showing where a variety of visitors spent time,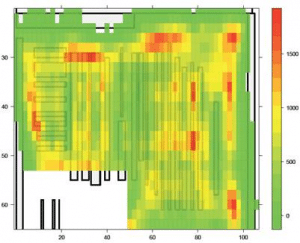 and where they did not. Would it be easy for you to collect this high-value information about shopper behavior? Without ZigBee technology, probably not so easy. The bottom line impact of ZigBee is clear.
For example, one major retailer sealed their deal internally by showing quick ROI with temperature sensor monitoring of refrigerated food cases. Once the infrastructure team saw the payback, they became ZigBee believers. The firm's Executive VP said, "I'm very enthusiastic about the program and the choice of ZigBee." It's good to have the EVP on your side.
With ZigBee, rethinking retail makes great sense. It is time for you to learn more about the ZigBee value proposition for retail sales, or other B2B and B2C applications. To learn more, please visit ZigBee.org where you can discover more about the technology, read a white paper, and even watch a webinar on ZigBee's use in the retail environment. Click here to dive right in: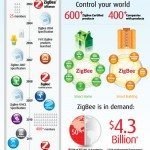 ZigBee Alliance – What is it?
This week I had the opportunity to speak about ZigBee with John Osborne II, Chairman of the Board of ZigBee Alliance and Ryan Maley, ZigBee Alliance's Director of Strategic Marketing. For anyone not already a dialed into ZigBee Alliance, we're talking about a technology standards organization that
…offers green and global wireless standards connecting the widest range of devices to work together intelligently and help you control your world.
How does ZigBee Alliance help me to control my world? They enable the internet of smart things. This means supporting development and evolution of a range of specifications that define a possible 64,000-node wireless-mesh network with provision for green battery-less devices, internet connections, and home area networks.
ZigBee Alliance also provides standards for implementing ZigBee-enabled technology that solves problems like
Commercial building automation for efficient energy use,
Efficient health and fitness monitoring,
Smart home automation, LED lighting control, and
Smart shopping in retail sales environments
The foregoing is only a short list of standards, so look here to learn more.
Certification, too

ZigBee Alliance helps business and home consumers by certifying that product manufacturers have properly implemented the ZigBee standards they adopted. Some manufacturers list their certifications on the ZigBee Alliance site, while others will provide evidence of their certification certificates on inquiry.
Winning Big with Energy Management
Ryan told me that
Everyone is green, either environmentally or financially ,
so energy management offered ZigBee its first big success. Electrical utilities were early adopters. For example, the California Public Utilities Commission references Zigbee specifically for home area networks. Automated meter reading is a great ZigBee application with obvious return on investment (ROI). Every 15 minutes, Texas utilities automatically read the ZigBee-enabled electric meters of participating homeowners. This enables effective demand response. By participating in an opt-in program, homeowners can agree to allow automatically raising of home temperature during warm weather. Smart energy use for a few hours a day helps balance energy flow, reduces the need for rolling brownouts, and perhaps saves building an additional  power plant.
Will the EU take the energy efficiency lead with ZigBee?
Discussing smart appliances helping to save all kinds of green, John Osborne mentioned that ZigBee for smart energy-saving appliances might come into play in Europe before it takes hold in the US. The EU is seeking a targeted 20% increase in energy efficiency by 2020 . ZigBee-enabled appliances will allow their users to make intelligent choices about when to use their appliances. Wouldn't you like to get the warning from your washing machine that you were about start a very costly wash? Waiting a few hours could save you and the environment an unnecessary cost. The ZigBee Alliance thesis is simple…
Make people aware of how much energy they are using, and they will alter their decisions.
People in Arizona have already proven this thesis by learning to manage their energy use based on time of day pricing.
Is Zigbee in your home today?
Do you have a Comcast set-top controller for your cable use? ZigBee is already in 80% of homes with this type of cable box. The Comcast home security solution uses ZigBee sensors on doors and windows, and on Carbon Monoxide sensors and smoke detectors. Should an anomalous condition arise, the ZigBee sensor contacts the set-top box, which alerts the Comcast monitoring center.
Philips lets a homeowner install a small part, download a Smartphone app, and take control their lighting lights. Great design makes it easy. For more complex applications like the home security system, professional installers ensure homeowners get the results they expect.
I, Robot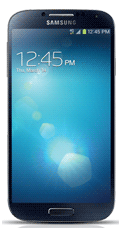 Samsung has indicated it will be including ZigBee technology in its popular Galaxy Smart phone line. Think about your home having a ZigBee-enabled security system. Now, imagine an unexpected event occurring, like a door opening when no one is supposed to be home. Your home automation robot will acknowledge the ZigBee sensor, scurry over and use its camera to see what is happening. It will use its Wi-Fi connection to report the problem to you and your security-monitoring firm.
Now go visit your refrigerator. That milk is way past its spoilage date, as your nose confirms. You scan the milk container's bar code into your Smart phone, and out there in the cloud, your shopping list is growing. You head to the store where the ZigBee-enabled phone interacts with the ZigBee network in your supermarket. Your phone knows what's on your shopping list, and the in-store ZigBee network guides you up and down the aisles to find what you need. Best of all, this time you don't forget the milk.
Is this tale far-fetched? No, these capabilities will be here sooner than you think.
The Bottom Line
This blog post gives you a taste of ZigBee and some of what the ZigBee Alliance and its participating members have already achieved. ZigBee is cool, and it is changing your world for the better. Next post, we'll examine how ZigBee is improving retail shopping today, at a major US food retailing chain.